Hi, this is
Kate
. Becky is currently up to her ears in boxes as she's moving house and can't get to the internet. She asked me to let you know that she's participating in the Queensland Flood Appeal Auctions that
Toni
is organising over at Make it Perfect, and all of the details will be posted on Monday.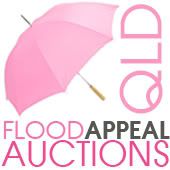 You can find more information about the auctions by clicking on the button above. A master list of all auctions will be posted there on Sunday. There's still time to host an Auction of your own but you'll need to contact Toni by the end of the day (Friday) to be included on the master list.
It's wonderful to see so many getting involved!