Quilting and Blogs go hand in hand. It's so fun being able to share your creation with a world of fellow quilters who 'get' quilting.
AND
It's even better being able to enjoy and admire the inspiration of others... Amy has one of those blogs that you cant live without. She has great projects, great info and is such an inspiration... I'm excited to have her blogging with us today to share her wealth of knowledge! Thanks Amy.....
Hi, my name is Amy Smart and I blog about my quilting fetish at

Diary of a Quilter

. I have loved finding other like-minded quilters (and fabric hoarders) of all ages in the blogosphere. I'm a mom to 4 youngsters who like to keep me on my toes. They and my husband are all extremely patient with my hobby and have learned to live amidst piles of fabric and half-finished projects in their lives.
Today Rebecca has asked me to share some thoughts on batting/wadding. Ever been overwhelmed by the variety of batting (or wadding) options available to quilt stores? Rebecca has already done a very thorough job explaining the variety of batting/wadding options available. Sometimes choice is good, but sometimes the overwhelming number of choices can be paralyzing. So I thought today we'd discuss a few of the

pros and cons

of the different choices. And feel free to weigh-in. I love when you do because I haven't tried every product or technique. For example, has anyone out there used the Bamboo batting? What did you think?
Basically the definition of a quilt is a blanket made of a top (front) and back with a layer of batting sandwiched in between and held together by some kind of stitching through all three layers. The two most relevant factors in choosing a batting are Loft and Fibers.
First off – Loft. This means how thick or thin your batting is.
Low Loft = thin and High Loft = thick. Thin batting makes a thinner quilt (obviously) but it works much better for a running stitch whether done by hand or machine. High Loft batts are best for a thicker comforter-type finish where the quilt is only going to be tied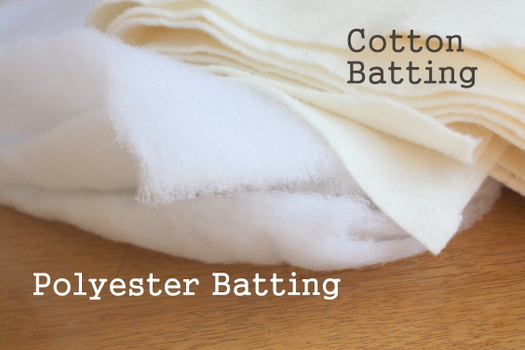 Fiber defines what the batting is made of. The three most common types of quilt batting are Polyester, 100% Cotton, and Cotton/Poly Blend and each has it's own pros and cons. (Wool and Silk are other options that are wonderful, but usually a lot pricier.) Another recent option is batting made from Bamboo. To be honest I haven't used Bamboo batting, but from all reviews it sounds fabulous so I need to give it a try.
Polyester - Less expensive, better for hand-quilting (if it's low loft), doesn't need to be quilted as closely together. Tends to shift when not quilted closely and 'beard' (which means the polyester fibers migrate through the fabric to the outside of the quilt).
Cotton - Feels like a thick flannel. Better option for machine quilting. Generally must be quilted closely. Washes better without pilling. Shrinks slightly. (This can be good or bad, depending on your personal preference. I personally like when the batting shrinks after the first wash because it softens the quilt and gives it more of a vintage appearance.)
Cotton blend (usually 80% cotton/20% polyester). Very similar to the cotton option, but is less-expensive and doesn't shrink as much. Good for machine quilting. This is what I use most often, mainly because of the price difference. Also I think it's a little lighter-weight than 100% Cotton, so may be easier to maneuver if you are quilting a large quilt and lighter for the finished quilt.
Wool - generally low loft, but heavier weight and extremely warm. Good way to make a thin quilt extra warm. Good for machine quilting and hand quilting (I've heard it's like quilting through butter). More expensive option.
Bamboo - From all reviews I've heard sounds like a great choice and eco-friendly. Slightly more expensive that cotton/poly option but less expensive than wool. Usually low loft so it's good for hand or machine quilting. Washes and holds shape well, although I have heard that bearding may be an issue. Anyone have that experience? I need to give this one a try myself.
Batting can be purchased by individual size, or big sewing stores will also let you buy it by the yard. Batting goes on sale often at the big box stores. I always stock up then – or use those 40% off coupons. And save those batting scraps. It's very easy to whip-stitch (largish) scraps together. Or you can use your smaller scraps to make an easy quilt-as-you go table runner!
Size: you want your batting to be slightly larger than your quilt top (front) and slightly smaller than your quilt back. In other words the backing should be the biggest.
I'm so excited that Rebecca has put together such a thorough list of beginning quilting resources in one location. She asked me to mention a beginning quilting series that I put together last fall so I'll add it here because sometimes a variety of explanations can help solidify learning a new technique or hobby.
I have other basic quilting and sewing tutorials available as well as a pattern shop.
Thanks so much Rebecca for inviting me to come discuss the weighty issue of batting. ;) Best wishes to all as you continue your quilt progress! (But I will tell you now, this is a highly addictive hobby. You've all been warned!)
Thank you Amy, she knows her stuff!! And for my 2 cents... I really like Bamboo batting. I haven't experienced it bearding as yet. I'm not sure if I prefer it to 100% cotton?? But it has a silkiness that cotton doesn't have.. mmm i think i need to make a few more quilts so i can decide
;)